What is the Natural Skin Beauty Project?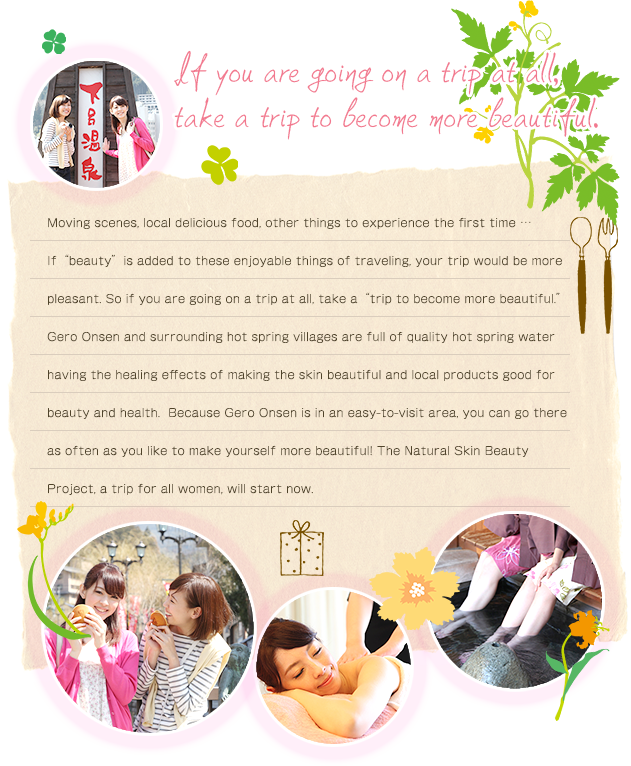 Features of Chemical Quality, Gero Onsen
Gero Onsen, a time-honored hot spring with a history of over 1,000 years
Gero Onsen is a well-known hot spring counted as one of the "three most renowned hot springs in Japan" along with Arima Onsen in Hyogo Prefecture and Kusatsu Onsen in Gunma Prefecture. Gero Onsen is a time-honored hot spring having a history of over 1,000 years from when the source of its spring was discovered in the Tenryaku period (947 – 957).


There is a solid reason for being called the "hot spring water for beauty."
Gero Onsen is distinguished as the "hot spring water for beauty" because of its chemical quality. The hot spring water is simple alkaline, and considered as having a function of removing the old keratin. Therefore, the efficacy of making the skin smooth and sleek can be expected by bathing. What makes it easy to remove keratin is a very high pH value of 9.18 of the hot spring water*. This much high pH value improves your metabolism, and may bring about the beauty effect, such as dullness removal.
*It is generally considered the higher the pH value is, the higher the effect of removing keratin is.


Chemical quality

Simple hot spring (alkaline)
Healing effects
Rheumatism, disturbance of motor function, neurosis, nerve paralysis, convalescence from illness, convalescence from fatigue, others
Characteristics
Hot spring water is clear and colorless.
Slick hand feeling and light scent of hot spring water are liked by everybody.

Hot spring villages with talked-about carbonated spring around Gero Onsen
In Gero City, there are sprinkles of hot springs where natural carbonated spring is gushing. They say the carbonated spring warms bodies and flexes muscle stiffness, and, if drunk, conditions stomachs. While staying in Gero Onsen, it may be good for you to walk a little further.